News:
Ananta exhibition open
Lanternhouse International, Ulverston
14th Jan - 14th Mar 2009
www.ananta8.com for images and more details
Transformers Artwork

News: 11/09 Moved into Lanternhouse International as the reisdent artist to develop a new exhibition focussing on my Hindu work. Digital sculptures and paintings...
Spent 3 months in Cambodia and Thailand. Painted up the Angkor What? Bar. My biggest painting to date
krik here to six it
Web site being updated daily (last update: 29/06/07)
Upcoming Events:
Manchester International Festival,
29/06/07, 11am - 4pm
A bigger baby elephant to be painted at Whitworth Park. For Shisha and Spearfish
South Bank Centre, 8th/9th June, 9pm
i'll be creating live digital artwork projected onto the side of The Royal Festival Hall (!), alongside various video artists, two choirs and crazy new digital hardware
Welcome to the digital home of Sumit Sarkar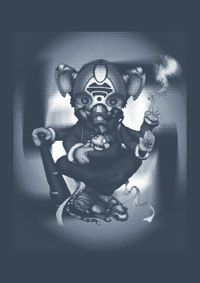 667
SITE UNDER CONSTRUCTION
About Me:
Sumit Sarkar, Age 29, Libran
India/England,
London/Ulverston
Visual Artist:
digital and analogue: paint, sculpture, design
...
..
.